Quick Links
---
Air Filtration Products Brochure

Resources
---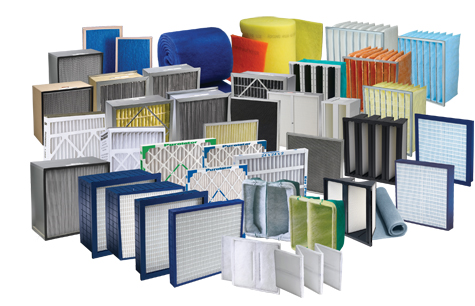 High Efficiency Filtration
Purolator is a leading brand of high quality, high efficiency filtration products designed to reduce energy consumption while maintaining high efficiency levels in commercial & industrial buildings.
Purolator is dedicated to improving the environment and offers the broadest line of filtration products in the industry designed to meet or exceed requirements for clean air and better indoor air quality.
Purolator offers a full range of high-efficiency HVAC products with MERV 13 or higher ratings. Upgrading to Purolator high efficiency can increase the overall certification points with the added benefit of reducing small-and large-particulate emission through outside-air exhausts, reducing indoor airborne irritants, and reducing the risk of microbial growth.
---
Featured Products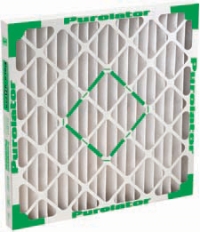 Puro-green 13
The Puro-green 13 heavy duty beverage board frame is made using moisture-resistant, sturdy frame material that stands up to rough handling and difficult service conditions such as expecting a long service life in the field. Because of moisture-resistant media and construction, the pleats hold together even when wet, preventing delaminating, excessive buckling, collapsing, racking, warping, and bending. Additionally, the double-walled thickness around the outer edge and rust-resistant galvanized steel frame help maintain pleat shape and prevent fluttering during operation.
The Puro-green 13 can be used in almost any building where better indoor air quality is desired such as existing commercial properties, universities, school systems and government institutions. It can be used a pre-filter or final filter without the need to retrofit systems for a high-efficiency rigid filter.
Benefits:
•Two-piece die-cut frame bonded to each other provide double-wall thickness around outer edge
•Die cut pattern provides 50% more contact points between media pack and frame
•Integral die-cut cross members provide strength and rigidity
•Water repellent adhesive used to bond frame with media pack
•Rust-resistant, expanded metal support grid made of galvanized steel
•100% water repellent, high-strength adhesive coats entire interior of frame
•2" depth with MERV 13 efficiency makes installation easy and user-friendly – no need to retrofit existing equipment
•Low initial resistance promotes low energy consumption
•Consistent pleat shape maximizes overall performance and service life of the filter